Lenten Retreat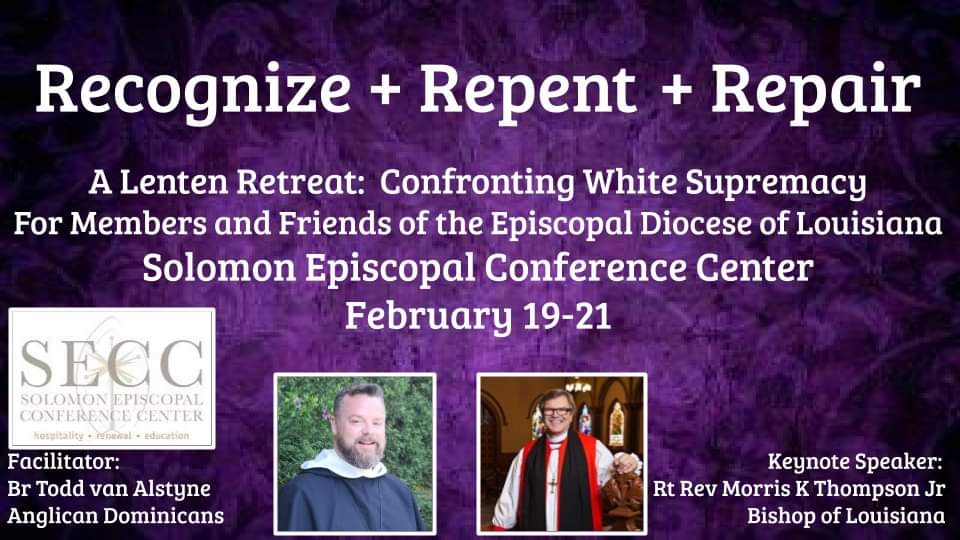 Date/Time
Date(s) - 02/19/2021 - 02/21/2021
All Day
Categories
In order to be able to heal, you have to name the problem. Recognition of white supremacy, whether we are active or passive participants in it, is in fact something we need as a people, a church, and individually to repent of and work toward advancing the Kingdom of God, where these things do not happen.
Join Brother Todd for a reflective retreat during the penitential season of Lent with insightful presentations filled with opportunities to acknowledge, atone, and amend. These will not be comfortable conversations. We are not called to comfort, we are called to conversion. This will be an open and safe space for all who are being called together toward a deeper understanding of the issue of white supremacy and how we can be agents of anti-racism.
This retreat has limited openings and seeks to be a starting point to follow up conversations, study actions. We are thrilled to welcoming the Bishop of the Diocese of Louisiana, Morris Thompson who will offer the Mass for us and be our Key Note Speaker on Saturday.
Questions about the content of the retreat can be emailed to Br Todd at dominiandutchman@gmail.com, Register today!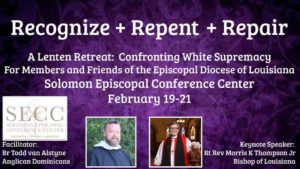 Attendee Bookings
Bookings are closed for this event.