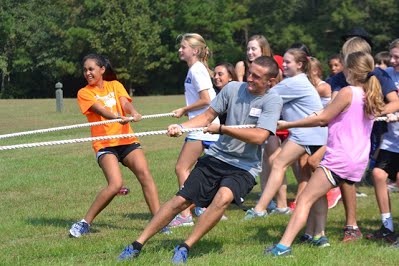 ACTIVITIES
Energetic guests can enjoy soccer, lacrosse, or football on our regulation sized field; jogging, cross county running, mountain biking or hiking through our 200 acres of maintained trails; or basketball, volleyball, swimming, water polo and badminton at the Pavilion area.

We have available:
Soccer balls, basketballs, footballs, volley balls, and badminton

Also, for the pavilion and pool activities, guests are welcome to bring their own food and utilize our galley kitchen with refrigerator, stove, oven, ice machine and microwave, or the SECC would be happy to provide a meal for you and your group at the pavilion.

THE PAVILLION
The Pavillion provides covered picnic table seating for up to 120 adults, a full service kitchen including ice machine, a propane equipped barbecue grill, men's and women's restrooms (w/showers and dressing areas), a small, air-conditioned meeting room/play room, sand volleyball court, half-court basketball, its own parking lot, and a magnificent 30' x 60' pool designed for community play. The area is lighted for evening events and gatherings.