Map Unavailable
Date/Time
Date(s) - 02/08/2019 - 02/11/2019
All Day
Categories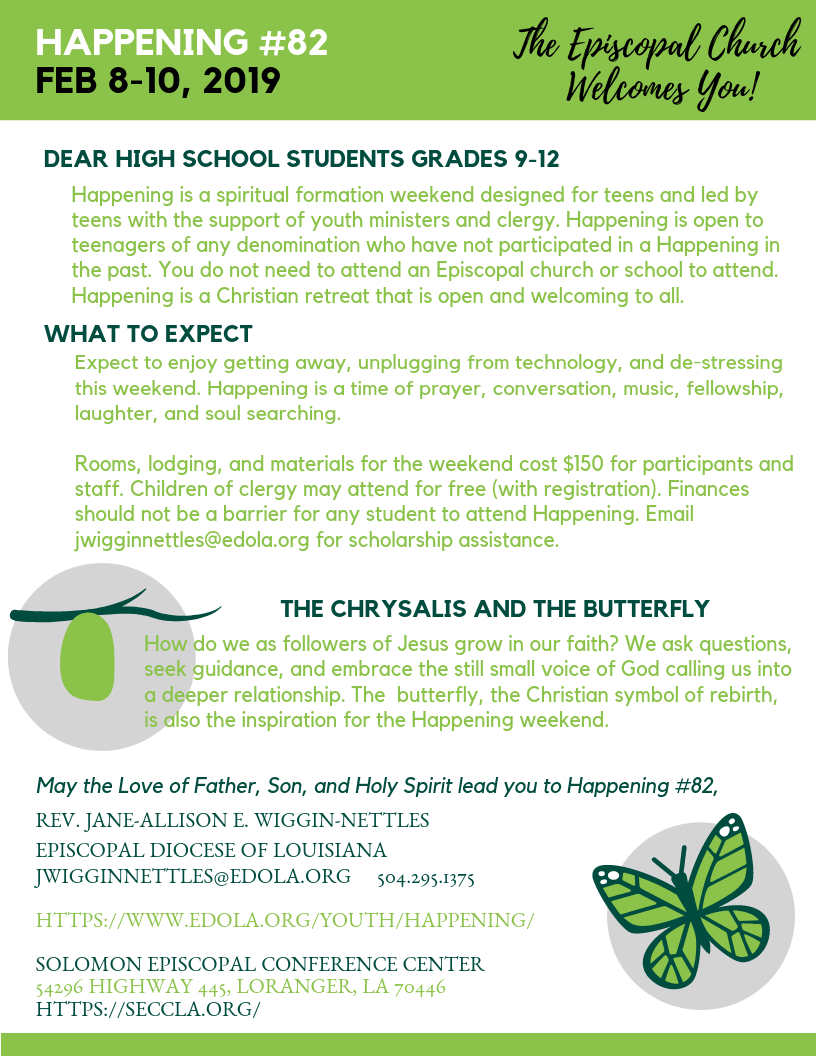 HAPPENING #82
February 8-10, 2019
Registration Deadline: February 6, 2019
Who can attend Happening?  Happening is open to ALL current 9th-12th grade teenagers of any denomination who have not participated in Happening in the past.  If you have participated in Happening and would like to serve on staff you can email Mother Jane-Allison Wiggin-Nettles at jwigginnettles@edola.org.  You need not be Episcopalian to attend, however you must be committed to engage in theological reflection from a Christian perspective.
Who is involved in the weekend?  Happening is staffed by youth who have attended Happening in the past, as well as adult "moms" and "dads".  There will be a nurse present to administer all medicines, other youth ministers, and adults will also be there to help supervise this amazing weekend.
What should I bring to Happening?  Your favorite pillow, throw blanket, toiletries, and enough clothes for the weekend including pajamas.  Lodging is 2-3 youth grouped by age and gender in rooms in the quad.  Linens and towels provided.  You must bring your own toiletries.
Also, bring musical instruments if you play them, a great attitude, and an open heart.  This is an "unplugged" retreat.  Any cell phones, laptops, iPads, or other electronic devices are returned at the end of the weekend.
Closing ceremony:  Parents, siblings, friends, clergy, and youth ministers are invited and encouraged to attend the closing ceremony at 11:00 am on Sunday, February 10 in the chapel of the Holy Cross at SECC.  We want friends and family at the closing for each participant and parents will be contacted with more details about the ceremony prior to the Happening weekend.
Attendance:  All participants must attend the entire event.  No arriving late or leaving early.
Registration Time:  7-7:30 pm on Friday, February 8.  Please make sure to eat dinner before arriving!!  You may arrive no earlier than 6:45 pm.
Closing Ceremony:  11 am on Sunday, February 10
Cost of Happening:  $150--Registration is online at SECCLA.ORG until February 6.
Scholarships are available, please contact Mother Jane-Allison Wiggin-Nettles, jwigginnettles@edola.org.
Staff:  The cost for staff members and adults is $150.
All adults and anyone over the age of 18 must register through contacting Mother Jane-Allison.
Bookings
Bookings are closed for this event.